조회 수

49
추천 수

0
2018.04.16 18:07:55
Portable & Single by k-style™
WinMerge 2.14.0.0 stable
WinMerge 2.14.0.0 stable Portable & Single by k-style™.exe (3.38MB)
------------------------------------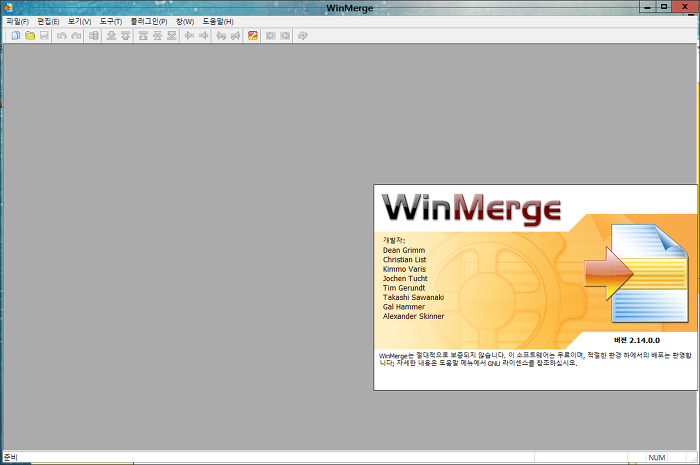 ------------------------------------
Download WinMerge
WinMerge 2.14.0
for Windows 2000/XP/2003/Vista/2008/7/8/2012
Download Now!Version 2.14.0; 6.14 MB
The current WinMerge version is 2.14.0 and was released at 2013-02-02. For detailed info on what is new, read the change log and the release notes.
4006203d4fc3542e765212e1a78f115fb3f946d2 WinMerge-2.14.0-Setup.exe
6ead0d7c47bf1f69b46ae9b832f11986ec915815 WinMerge-2.14.0-exe.zip
f63726e376b2b5572450ae82315b4b25bed8fb4e WinMerge-2.14.0-exe.7z
 
 

The easiest way to install WinMerge is to download and run the Installer. Read the online manual for help using it.
You can also download additional plugins and the whole source code from WinMerge.
Requirements
Microsoft Windows 2000/XP/2003/Vista/2008/7/8/2012
Microsoft Visual C++ 2008 Runtime Components (included in the installer)
Admin rights for the installer
WinMerge 2.12.4 for Windows 95/98/ME/NT
WinMerge version 2.12.4 was the last version to ship with Microsft Visual C++ 2005 runtimes that support Windows 95/98/ME/NT. It was also the last version to ship with an ANSI version of WinMerge.
Other Versions
Project File Releases

Source : http://winmerge.org/downloads/